Pacific Automotive Group
About Us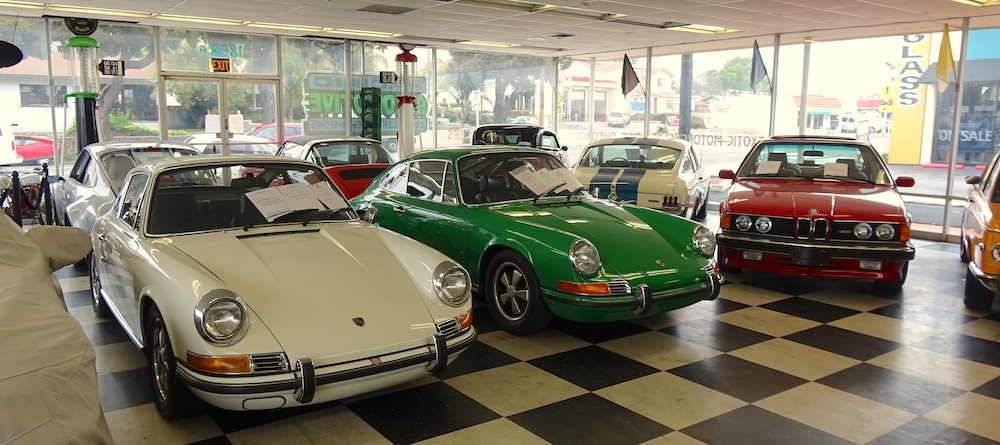 Pacific Automotive Group was founded in 1992 as Pacific Motor Books, specializing in automobile related books, pamphlets, magazines, manuals, posters, die-cast models, art, and various other forms of automobile memorabilia. In 1997, it evolved into Pacific Automotive Group, specializing in the sale and restoration of exotic and classic automobiles and motorcycles. Currently involved in only limited restorations, some of the past projects have graced the lawn at Pebble Beach and at the Concorso Italiano in Monterey, CA. (View past and present restoration projects here.)
Over the past 25 years, many automobiles and motorcycles have passed through our doors. Not just an ordinary pre-owned dealership, PAG strives to deal only in cars that are unique, exotic, or classic. We only buy and sell automobiles that WE would like to own and drive, and we hope this passion carries over to our customers. Our goal is to build long-term relationships with our clients in order to keep this passion alive.
Personal Concierge Services
If you do not see the automobile or motorcycle of your dreams in our current inventory, we will find it for you. Please inquire about our personal concierge services including the purchase and negotiation on behalf of our clients, and advice in building or adding to the optimal automobile or motorcycle collection.
Josh Cohen received his introduction to automobiles and motorcycles at age of eight by helping his father, Alan, restore BMW 2002s and early Porsche 911s. Over the years, he and Alan had collected all manner of automobile memorabilia, so Josh's natural tendency was to go into business dealing in the same. Before long, Pacific Motor Books became the "go to" place for the area's collectors. Looking to expand, Josh purchased a 1954 Jaguar XK120 OTS with the intention of having Alan restore it. Once completed, it was sold, and, as they say, the rest is history. There is not much in the way of exotic or classic cars that Josh hasn't owned and driven. From Ferraris to Porsches, BMWs to Lamborghinis, Ford GTs to Teslas, Corvettes to Shelbys, the list is nearly endless. His knowledge in the industry is unprecedented, providing the upmost service to clients who are looking to purchase, sell, restore, or build an entire collection.
David Decrevel's first car at the age of 16 was a 9-year-old 1954 Austin Healey 100-4. After a first visit to Autohaus, the local foreign car repair shop, he became an employee, starting out sweeping the floors and occasionally getting the opportunity to perform the occasional lube job. Working after school and on weekends, he soon graduated to much more than the menial tasks. The shop owners were both SCCA race car drivers in Formula B and Formula Jr., and the shop maintained customers' racecars, including a 1963 289 Cobra and a Brabham BT8. Most weekends were spent at the racetrack. The car "bug" has never left him and over the years he's owned numerous Porsches, BMWs, MGs, Austin Healeys, Jaguars, and the like. David has personally completed all the service and repairs on all his cars, including Porsche and BMW engine rebuilds and Porsche and Austin Healey restorations, so he can relate to all aspects of the automobiles, bought and sold.